Since I'm extremly busy learning Maya and sketching toys (will explain that another time ;)) I thought it's good idea to put some 'unusual' context on a blog :)
So, let me introduce you to my
'Outfit Posts'
thingy :) Basically every month I will post few photos of myself in an outfit I'm currently obsessed about.Let me know if you like this kind of thing or not!
Only two photos this time since we were rushing to get our shopping done :)
::details::
sweater - gift from mother-in-law
jacket - New Look
trousers - Internationale
boots - HeavyDuty
necklace - eBay
earings - Peacocks
I'm in love with this spikey jacket - so cool! I was searching for the perfect one for ages now and was lucky enough to get one pretty cheap from x-mas sale. Checked pants are my second obsession hahaha. Can wear them with almost anything which is good.
One thing I really like about this photo - fencing bush and grass looks so green that it hard to believe that it's beginning of January. British weather will never stop suprising me.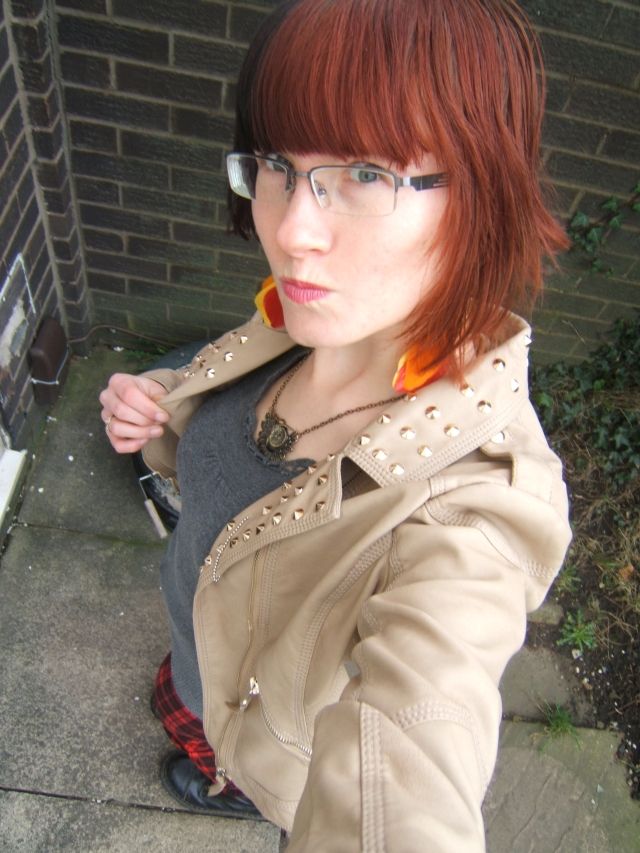 Silly selfie :) So happy that black and red part of my hair is visible.
Have a wonderful day!~